Outdoor Living Products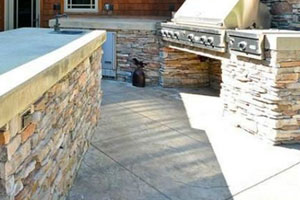 You can have your dream outdoor setup by installing various outdoor living features in your property. The most popular option is to install a paver patio or a fully-furnished kitchen in the backyard. However, you may not fully enjoy these outdoor amenities if they are made from inferior materials. As a property owner, you have to ensure that only the best outdoor living products are used on your outdoor features and amenities. You have to find a reliable supplier that can provide you with top-quality materials at reasonable prices. And here at Central Valley Builders Supply, we can be your best partner in building your dream outdoors. We carry top-quality products from leading brands and manufacturers. With over six decades of serving the needs of clients across the state, Central Valley Builders Supply is the only company to trust for your outdoor improvement projects.
Outdoor Living Materials
Central Valley Builders Supply is the only place to go if you need a reliable supplier of outdoor living materials. As a leading supplier in Southern California, we only sell durable and long-lasting products and materials. We source them from leading manufacturers in the region so we can guarantee the quality of each material we sell. We have pre-built outdoor living products as well as a wide range of construction materials. We can help DIY homeowners and contractors build unique outdoor kitchens, barbecues, outdoor fireplaces, pizza ovens, fire pits, pergolas, and gazebos. We can help you make these features more functional with our outdoor lighting products and finely crafted outdoor furniture. We also have other outdoor living accessories such as statues, and ornaments. These accessories have vital functions in an outdoor space so we also include these products in our inventory.
Outdoor Living Supplies
For DIY homeowners who want their outdoor living space to be a mirror of their unique choices and contractors who build these features from scratch, we have all their needed supplies. We offer everything from stone paving to bricks and veneers, outdoor lighting, and outdoor accessories. We are the place to go if you want a one-stop shop for all your needed outdoor living products and supplies. With us, you can install and build paver patios, outdoor kitchens, fire features, and other livable spaces in your backyard.
Outdoor Living Tools/Equipment
If you want to build your outdoor space in a breeze, you need the right outdoor living tools and equipment. An outdoor living feature installation project requires specific tools and equipment and we can offer all that is needed for this kind of outdoor improvement project. You can buy high quality products from us such as trowels, tampers, paving equipment, fire tools and accessories, and other masonry tools.
Quality Customer Service
Providing quality customer service is our primary goal here at Central Valley Builders Supply. Our customers will not only get topnotch outdoor living products but also highly personalized service from our dedicated staff. We make sure that your buying experience with us is a pleasant one. Our people will assist you in product selection and ensure a hassle-free delivery of your purchased items. We are present in 5 locations, so we can serve all types of clients from the different areas in Southern California. Contact us at (818) 343-4614 and make Central Valley Builders Supply your ally in creating your dream outdoor living amenities!
We Provide Services to the following Cities and Towns in Southern CA:
Van Nuys
Lancaster
Reseda
Orange
Thousand Oaks
Simi Valley
Los Angeles
Pasadena
Santa Monica
Long Beach
Anaheim
Irvine