Hardscaping Materials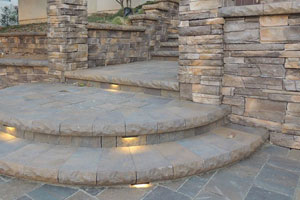 Central Valley Builders Supply is the most trusted supplier of hardscaping materials in Southern California. Most DIY homeowners, architects, landscapers, and hardscape contractors choose us because they can get all their needed materials and supplies in one roof. We have concrete pavers, bricks, natural stone pavers, retaining wall blocks, stone veneers, paver sealers, and other vital masonry supplies. Our product inventory also includes various tools and equipment for masonry and hardscaping jobs. With our complete line of products and huge inventory of hardscaping supplies, we can always meet your project's requirements. Please call us today at (818) 343-4614 to place an order or visit one of our showrooms during business hours to see our complete product inventory. Our friendly staff will help you choose the right materials and tools for your hardscaping project.
Hardscape Supplies
As a one-stop-shop for all your hardscaping needs, we can always provide your required masonry materials and hardscape supplies. Aside from premium pavers and stones that we offer, we also have products for hardscape installation, repair, and maintenance. We have paver cleaning solutions, sealers, grout, jointing sand, mortar mix, and other masonry supplies. These are all top-quality and sourced from leading suppliers in the country. At Central Valley Builders Supply, we help our clients build long-lasting outdoor features and amenities by providing them with top-of-the-line hardscaping materials.
Hardscaping Tools/Equipment
We encourage our customers to visit one of our stores to see our wide range of hardscaping tools and equipment. We have buster bars, paver and brick chisels, paver extracting tools, markers and gauges, tampers, dead blow hammers, mallets, gravel levelers and spreaders, angle wire brushes, kneeling boards, wall unit lifters, slab splitters, and screed sets. We also have equipment for large hardscaping projects, such as plate compactors, powered wheelbarrows, and other gas-powered equipment. Our hardscaping tools are guaranteed premium quality since they are sourced from top suppliers and manufacturers. Whether you are a DIY homeowner or a hardscaping contractor, we have the right tools and equipment for your project.
Hardscaping Products
Central Valley Builders Supply leads the competition by offering a complete line of hardscaping materials. Our large selection of pavers, natural stones, flagstones, wall caps, steps, pool coping, decorative rocks, and other hardscaping products are displayed in our 5 acres yard. By maintaining a large inventory of these materials, we can easily cater the needs of big time contractors in Southern California. Installing your desired outdoor features and amenities won't be a problem anymore if you choose us to be your main supplier. We have products for your driveways, patios, retaining walls, walkways, pools, and other masonry features in your property. Contact us today and let us discuss your project requirements.
Quality Customer Service
As a family-owned and operated business, we highly value the satisfaction of our customers. Our well-trained, courteous personnel will assist you in selecting the best product for your project. They can answer your queries and concerns because of their in-depth knowledge of all the hardscaping materials we sell. Quality customer service is a long-standing policy of our company so we can guarantee the prompt processing of your purchased materials regardless of the total cost or quantity. We also offer client-friendly pricing for local and loyal customers. Call us for details.
We Provide Services to the following Cities and Towns in Southern CA:
Van Nuys
Lancaster
Reseda
Orange
Thousand Oaks
Simi Valley
Los Angeles
Pasadena
Santa Monica
Long Beach
Anaheim
Irvine