Landscaping Materials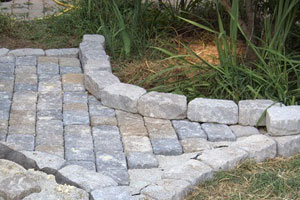 Central Valley Builders Supply provides landscaping materials and landscape supplies for homeowners and contractors alike. We stock a huge inventory of landscaping products, materials, hand tools and equipment on site and readily available for your next landscaping project. We have several material supply yards in Southern California including Reseda, Van Nuys, Lancaster and Orange, CA.
Landscape Supplies
Visit any of our landscape material supply yards to see our diverse range of landscaping products, from ground coverings such as topsoil, gravel, sand, to irrigation supplies including pipes and fittings, sprinklers and a wide variety of boulders, natural stone and concrete pavers, to name a few. We carry only the highest quality products from leading manufacturers in the country.
Landscaping Tools & Equipment
Not only do we stock high quality landscape products, but we also offer an extensive line of landscaping hand tools and equipment. From hand shovels, rakes, picks and digging bars, to cutting, pruning and irrigation tools all at the most reasonable prices that even the big box stores can't compete with. And if you can't find the exact tool you're looking for, we'll find it through our vast network on manufacturers.
Landscape Products
Below is a partial list of landscape products you will find at any of our locations:
Soils amendments
pots and tubs
boulders
pebbles
colored rock
decorative rock
topsoil
sand
gravel
natural stone
concrete pavers
retaining walls
irrigation supplies
sprinklers
pvc pipe
pipe fittings
bender board (plastic & wood)
cement
stakes
filter fabric
water proofing materials
ornaments
hand tools
equipment
Quality Customer Service
Our expert staff have decades of combined experience in the landscaping industry. We are always ready and available to answer any of your questions and provide sound advice. Visit us today, or call us anytime at (818) 343-4614.
We Provide Services to the following Cities and Towns in Southern CA:
Van Nuys
Lancaster
Reseda
Orange
Thousand Oaks
Simi Valley
Los Angeles
Pasadena
Santa Monica
Long Beach
Anaheim
Irvine